Valentine's Day is next month, start to get ready early by downloading and printing these free printable and helpful prime and composite number sorting activity pages for your students.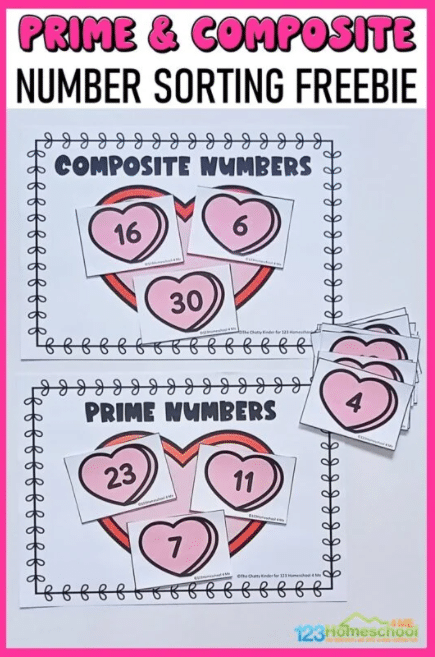 Your students in third and fourth grade will be able to have so much fun while learning at the same time with the help of these free printable number sorting activity pages.
These free printable number sorting activity pages are easy to add to your already existing study lesson plans for math class to use for at home or in a classroom full of students.
Practice learning what prime and composite numbers are with these excellent free printable number sorting worksheets. These low preparation hands on activity worksheets are great for learning and practicing factors and solving multiplication problems.
Making teaching elementary level math easier for you and your students, and enjoyable with these free printable number sorting mat worksheets that come with a cute and fun Valentine's Day theme.
Learn about different composite numbers and number factors with these free printable worksheets that help teach math problem solving.
Save and print these free printable number sorting worksheets for a fun Valentine's Day party in class or with your friends to have fun while learning.
Check out these links below for more free printable Valentine's Day activity worksheets.
CLICK HERE for hundreds of free homeschool printables
Be sure to follow the Free Homeschool Printables and Worksheets board on Pinterest!
The following two tabs change content below.
Latest posts by Isa Fernandez (see all)