This is an awesome fun and free Bible craft idea for kids to be able to have fun, all the while learning about the story behind Noah's ark.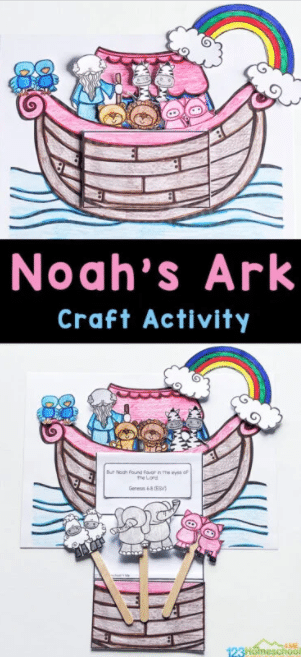 This is the perfect craft idea for your students that are in preschool through fifth grade to be able to easily enjoy together. It's a great color, cut, and paste craft activity idea that's easy to do and use to teach your kids about Noah's ark in the Bible.
With this free printable Noah's ark craft idea, your kids get to read and learn all about the story in the Bible and what happened to cause Noah to build an ark in the first place. It's a wonderful craft idea to print out to be able to use at home with your whole family together, or in a church Sunday school class for kids.
Included with this free printable Noah's ark craft idea for kids is a flip book that you get to read together to learn about the Noah's ark story. You can keep the book separate from the craft or attach it to the craft.
Your kids will love being able to pick out their favorite colored crayons, markers, or colored pencils to color and decorate the ark, as well as learning the story behind it.
Check out these links below for more free printable crafts for kids.
The following two tabs change content below.
Latest posts by Isa Fernandez (see all)