It's about this time in every school year that my children start to get fidgety and need to burn off some energy outside.  But it's just too cold!
So what does a homeschool mom do when it's too wet or cold or snowy for the kids to go outside?
We find indoor activities for them to occupy their minds and burn off some of that energy!
In this massive list of indoor activities for homeschooled kids, you'll find over 100 ideas to keep your little ones busy while they're stuck inside.  While the indoor activities are divided by stages, there are many that would be applicable to wide range of ages.
Make sure you pin this post or bookmark this page so you can reference it quickly for those days when you need a few fresh ideas!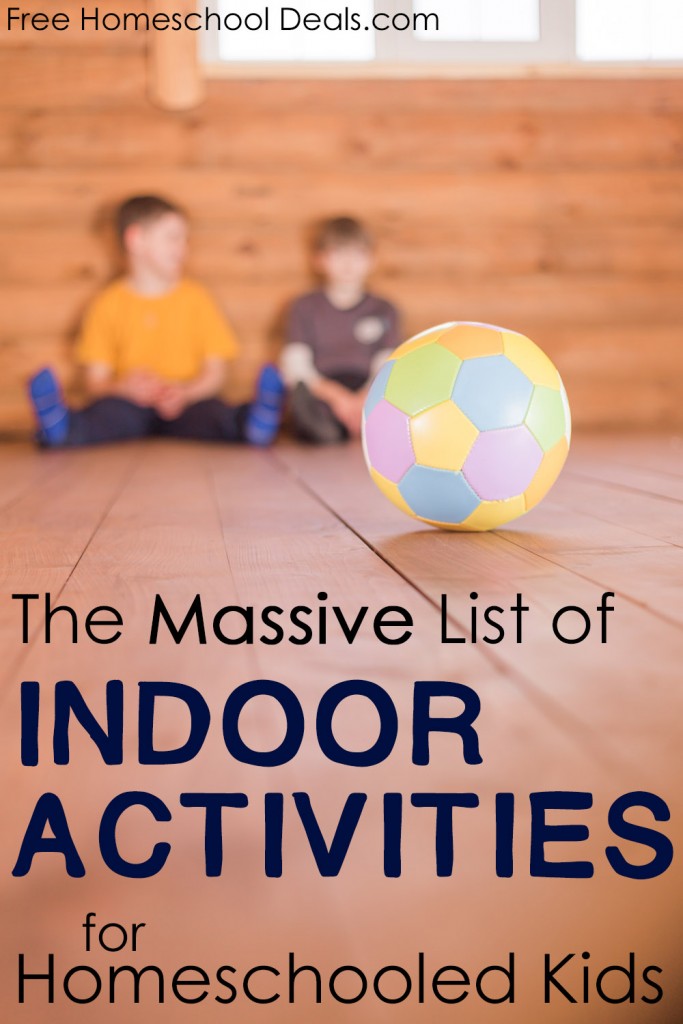 Some of these activities require small pieces that might be choking hazards for young children.  Please watch your young ones closely if you choose to do these activities!
Indoor Activities for Toddlers
Play Flashlight Circle – Point the flashlight on different places on the floor and have your toddler jump in the circle
Choose from 7 different bean bag games and activities
Get moving with Exercise Eggs! Draw an egg and act out the activity inside.
Play a quick and easy photo memory game
Make homemade playdough and set up a playdough picnic.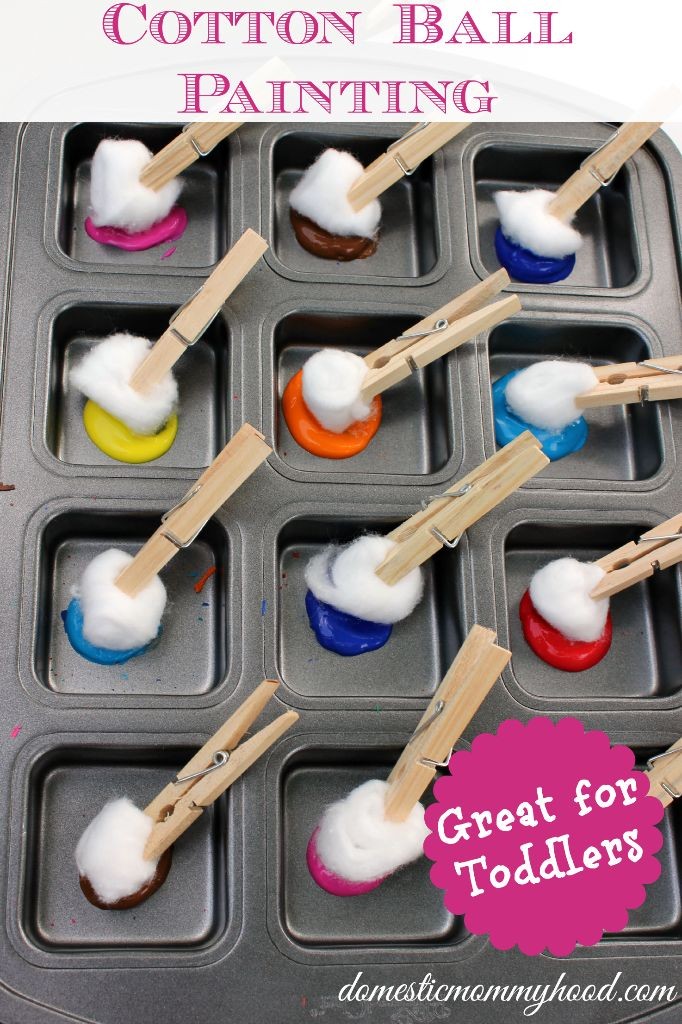 Make a big batch of chocolate oobleck and close your eyes to the mess!
Have some bubble wrap fun!
Break out the googly eyes and feathers and create on a piece of sticky paper.
No Mess Toddler Painting – you only need a ziploc bag and paint!
Make an easy dot to dot for your toddler.
Get messy with this Finger Painting keepsake craft.
Let your toddler measure the ingredients for hot vanilla milk.  And then have a cup together!
Create a guessing game while your toddler wraps toys in tinfoil.
Make a bird feeder out of a pinecone or toilet paper roll, peanut butter, and peanuts or bird seed.
String yarn through the holes in your laundry basket, and then place toys in the bottom.  Can your toddler figure out how to rescue his toys through the yarn maze?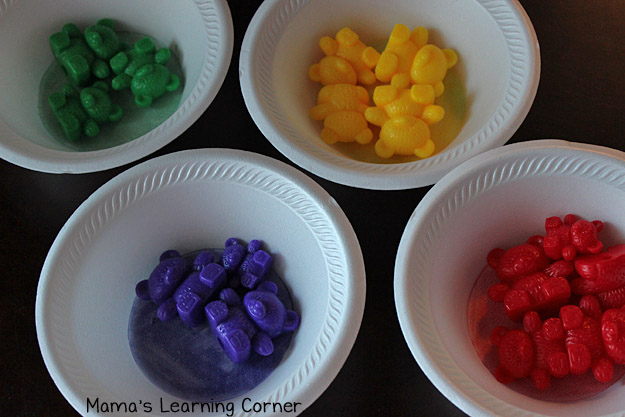 Paint with cotton balls and clothes pins.
Play with playdough in a new way: Add buttons, a fork, cookie cutters, counting bears, or any other manipulative.  Observe the different type of imprint each object makes.
Make a batch of rainbow slime.  It lasts for months!
Place a bag of dried beans in a large container – rectangle works best.  Hand your set of measuring cups to your toddler and let him pour, sort, rake, and dump!
Create a small area on the kitchen floor for your toddler to experiment with wet paper.
Go on a Laundry Basket Ride.  Have an older brother or sister gently take your toddler on a ride across the carpet!
Have a fun afternoon doing No Mess Splatter Painting.
You might have the materials on hand to make this toddler sewing activity.
Indoor Activities for Preschoolers
Find an old sheet and set up a flashlight puppet show.
Play tic tac toe a different way with Washi tape and your child's toys.
Act out a favorite book.
Listen to an audio book – there are many free online options.
Host an indoor tea party, complete with teddy bears and dress-up clothes.
Make Glue and Salt Pictures.
Turn up the radio and have a 5 minute dance party.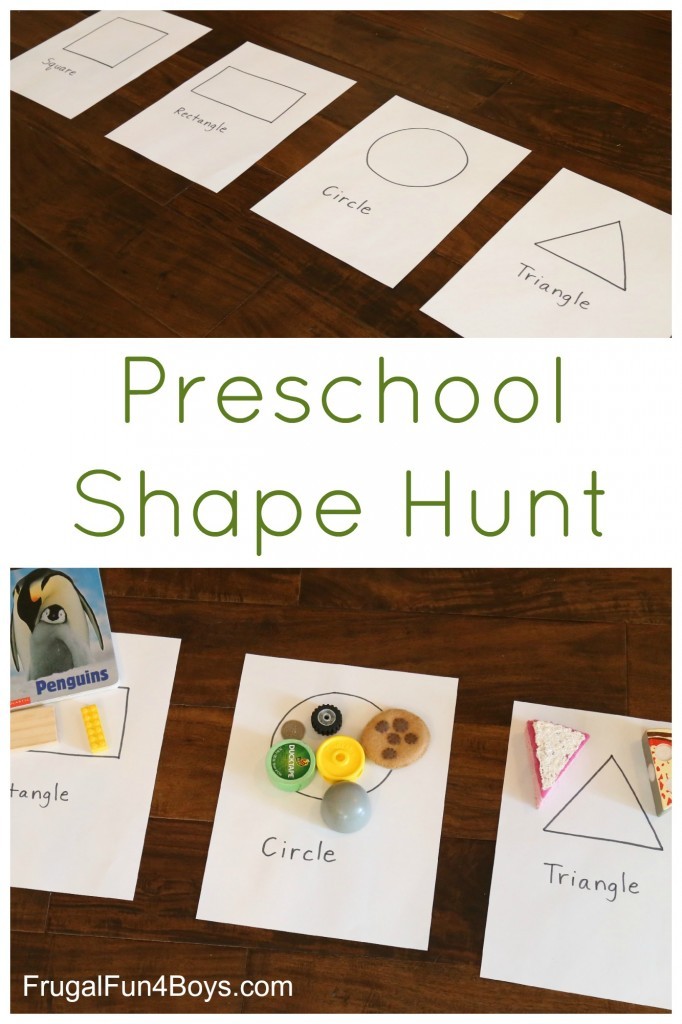 Have any cardboard boxes lying around? Help your young ones make them into rocket ships or a mansion for the doll babies.
Set up a simple obstacle course and take turns going through – "Dance down the hallway, then hop on one foot, then do a somersault!"
Set up a pretend ice cream store.
Use painter's or masking tape to tape off a square on the floor.  What can they fill it up with?  Blocks? Plastic cups? Doll Babies?  Matchbox Cars?  How many can they fit in the square?  How tall can they make it?
Break out the bear counters and sort them by color, by kind, etc.  Make a bear family and tell a story about what they're doing or where they're going.
Fill the sink with soapy water and let them "wash" dishes.
Have snow outside?  Bring the snow inside and paint it!
Instead of a potato sack race, have a pillow case race!
Sort the old crayons by color and make muffin tin crayons.
Make paper plate roses.
Have an enormous overflowing bin of unmatched socks?  Have a sock matching party!
Play indoor shape hopscotch.
Coat a small baking pan with shaving cream and practice writing ABCs or numbers.  Let your child use a spatula to smooth out the shaving cream after writing each letter!
Download a packet of pages and practice those scissor skills!
Set up a restaurant next to your play kitchen.  Break out the apron chef, set out a small table for the patrons (ie: mom), and provide a pen and paper for the waiter to write orders.
Roll butcher paper or unfold newspaper and cover your table.  Your children can create tonight's 'tablecloth' with markers and crayons!
Make an easy icicle craft.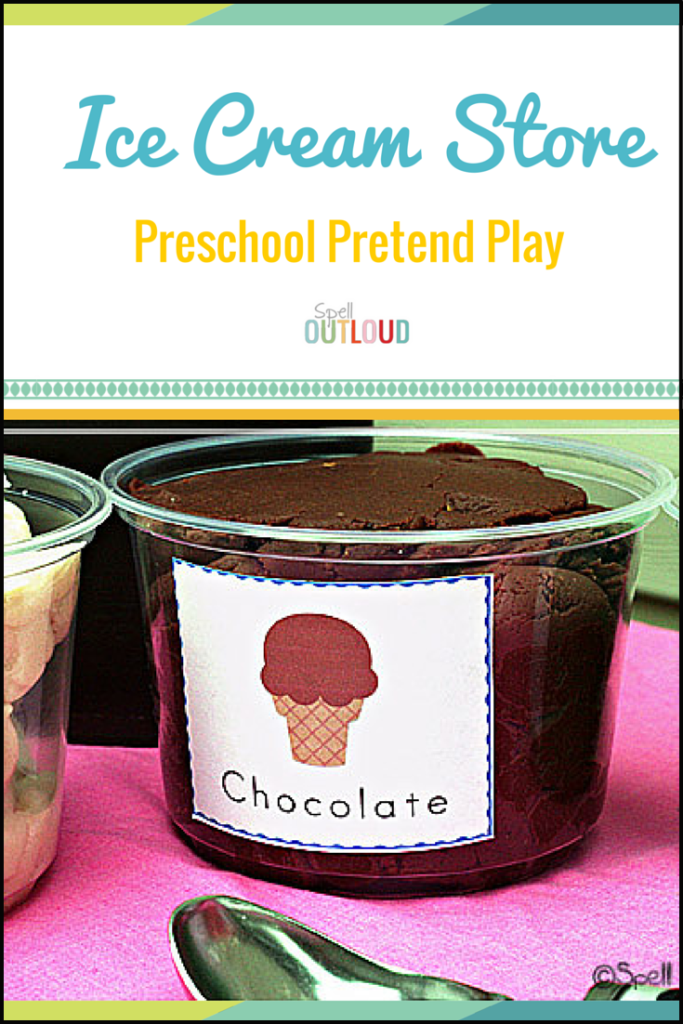 Pretend you're going on a trip to Grandma's (or Disney or the beach) and pack your suitcase!  What does your child consider to be a 'must have' on her trip?
Go on a Preschool Shape Scavenger Hunt.
Pull out all of your spice jars.  Who can build the tallest tower?
Get moving with a set of ABC Exercise Cards.
Set up a coffee shop and take orders!
Have a tent?  Set it up in the den and go "camping".  You can even use a battery-operated candle with a few sticks surrounding it as a campfire!
Make Fruit Loop Towers.
Make a tornado in a bottle.  Experiment with different ways to shake the bottle to create the tornado.  Which method worked the best.  Why?
Have a spare roll of contact paper?  Here are 15 different ways to use it.
Make a pretend elevator and discover a new adventure on each floor!
Play balloon tennis with easy-to-make paper plate paddles.
Build a Frosty the Snowman Kit that can be used over and over.
Find an old clay pot for your kiddos to paint.  Spring will be here soon and you can plant flowers in it!
Indoor Activities Best for 5 and Up
Grab a few sheets of colored and white paper and write & illustrate a book.
Learn how to make straw rockets and then see whose will go the farthest!
Learn how to play dots and boxes – only takes a pen and paper!
Find all of the extra sheets and blankets in the house and build a big fort.  See how detailed your kids can make it!
Get the house clean! Pay a dime for each random sock your kids find.
Download the free printables and build your own town!
Let the kids go wild in the craft cabinet.  Set boundaries of what can and can't be used, and let the creativity roll.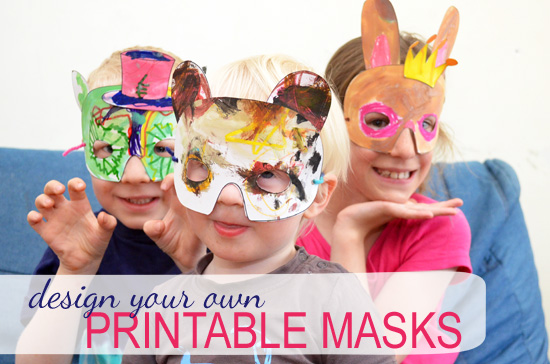 Set up a post office at your house, complete with mailboxes!
Write a letter.  Who doesn't love to get mail? Teach your kids how to write a letter and address an envelope.
Play a card game – Phase 10, UNO, and Skip Bo are favorites!
Learn how to finger knit.
Rearrange a room – your kid's bedroom, the den, or the school room.  Everyone loves a change of pace!
Set up an easy treasure hunt.
Make your own snow globe.
Bake something together – cookies, a cake, muffins, even homemade dog treats!
Download the printable and design your own paper dolls.
Make your own crayon resistance snowflakes.
Build a cardboard stair slide, and you'll be the coolest mom ever.
Make paper airplanes and decide whose design is the best and why.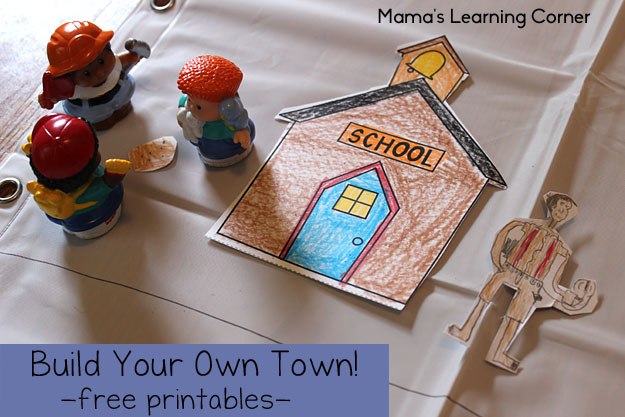 Build a DIY Marble Run.  This one requires a bit of planning, though.
Design your own printable masks.
Dig out the Little People and use them to populate this printable paper town.
Have a race to see who can complete the most LEGO Challenge Cards.
Make your own miniature tree house.  You could easily use a cardboard box for this.
Use the Voice Memo app on your phone and record your child reading her favorite story.
Learn how to do a few tricks with a penny. (fun!)
See how many ______ (push-ups, sit-ups, jumping jacks, etc) you and your child can do in 30 seconds.  Who wins?
Create a LEGO zip line.
Tape a large sheet of paper on the wall and have a sibling sit for a portrait.  Shine a flashlight so you can see the subject's profile and draw away!
Make ice cream in a bag.  It takes a bit of work (with all of that shaking!), so it's a good activity to get the wiggles out.
Trace your child's body on a big piece of butcher paper.  See how many organs your child can draw – heart, lungs, brain, etc.
If you don't have butcher paper, your child trace their stuffed animal on paper!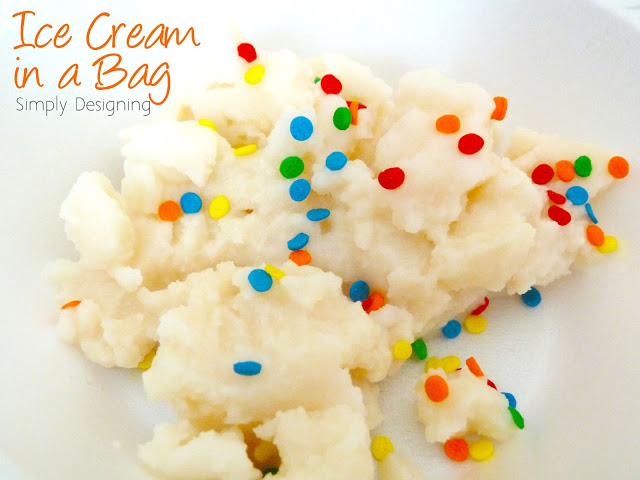 Build a shoebox foosball game.
Have a jar of spare change lying around?  Count and see how much is in it!
Make a homemade faux lava lamp.  So fun!
Make something – anything – with paper mache.  If you need an idea, start with these paper mache globes.
Set up a Nerf Gun shooting range.
Make a Spy Decoder and then write messages to each other!
Make Post-It Note flowers.  Beautiful!
Have some washi tape lying around?  Make Washi Tape Magnets.
What do your kids enjoy doing on the days that they're stuck inside?
The following two tabs change content below.
We are here to help families afford the homeschool life by providing the BEST homeschool freebies, deals, resources we can find & encouragement as we walk this journey together!
Latest posts by Free Homeschool Deals (see all)