Your kids are sure to have a blast with this fun and free printable make your own dinosaur skeleton activity for kids.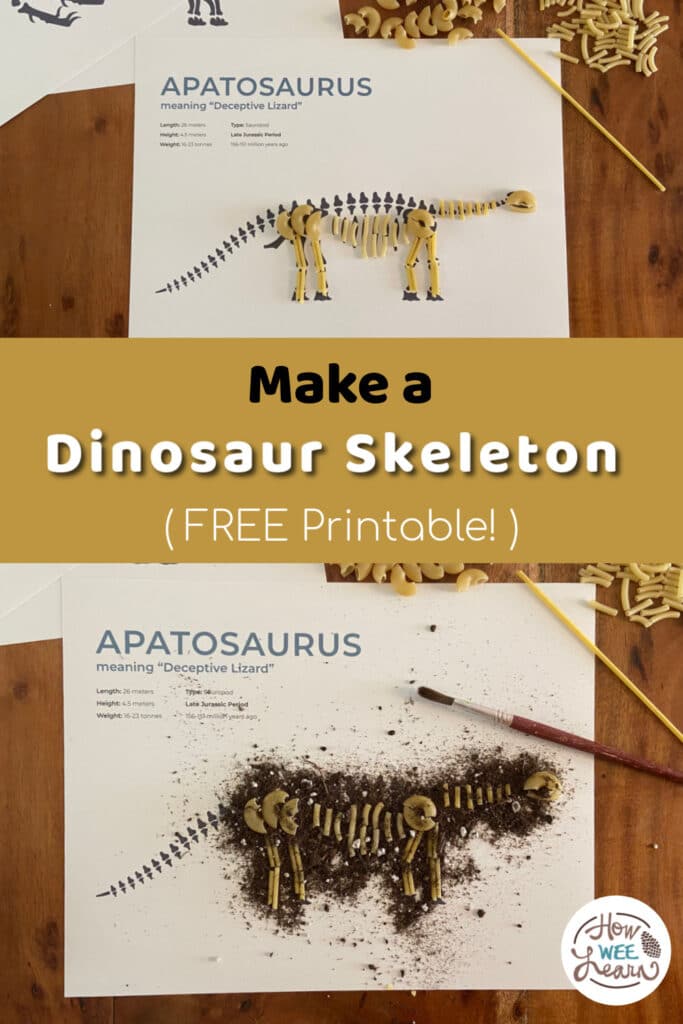 Your students who love dinosaurs are going to have so much fun with this free, printable, make your own dinosaur activity for kids.
Choose from different dinosaur skeletons to print and make like the Apatosaurus and Yangchuanosaurus or print them all to have fun for hours. Students of many different ages will have fun with this free printable dinosaur skeleton activity.
You can take glue and different types of noodles from the store and glue the noodles on to the dinosaur skeleton worksheet templates printed out. You can use whatever noodles if you already have some in the cupboard at home, or you can research what the dinosaur skeletons look like in real life and try to find noodles to match that look similar.
Explain to your kids while they are having fun with this free dinosaur skeleton activity that what we know of and understand about dinosaurs is always changing. People are always finding new things and working on new ways to learn more about dinosaurs from a long time ago. Encourage your students to always be curious and want to learn more.
If you are looking for more free printable dinosaur related worksheets for kids then check out these great links below.
CLICK HERE for hundreds of free homeschool printables
Be sure to follow the Free Homeschool Printables and Worksheets board on Pinterest!
The following two tabs change content below.
Latest posts by Isa Fernandez (see all)