Take a look at these decorated lowercase alphabet free coloring pages for your little ones to enjoy.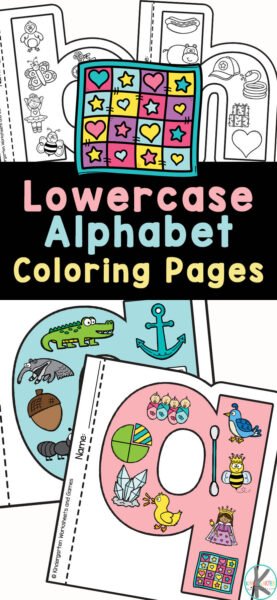 Coloring pages to print for free, perfect for toddlers, preschoolers, and kindergartners who are learning the alphabet for the first time.
Teach them to color in the letters which help build their hand coordination skills and memorize the letters. Each letter is decorated with multiple objects that begin with that letter of the alphabet. There are pages for each individual letter.
After you've decorated all 26 letters, a neat idea is to cut out all the letters and staple them together to make a little book for your kids to look back to.
These ABC coloring pages are the perfect phonics activity for your young children to practice learning the letters of the alphabet and build their vocabulary.
Save money with these black and white printables by not printing in colored ink too.
These unique lowercase letter printables are ones that your children will love to color and decorate. You could use crayons, markers, colored pencils, glitter or more to fill out these pages to make them your own however you like.
Perfect for parents, teachers, and homeschoolers to enjoy at home or in the classroom.
Check out more ABC printables here!
The following two tabs change content below.
Latest posts by Isa Fernandez (see all)