Your kindergartners can practice their handwriting and opinion developing skills with these free printable activity worksheets.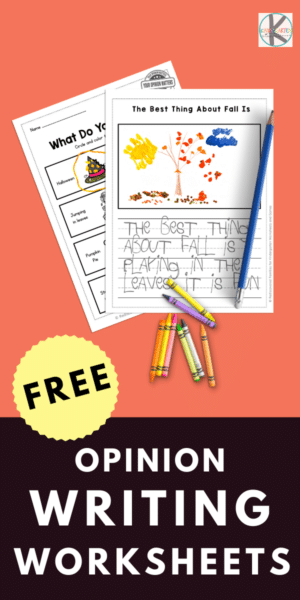 Teaching kindergartners writing skills is easy with these helpful printable worksheets. This is a fun, no-prep, kindergarten writing activity that helps them develop opinions for themselves.
Let your children know from a young age that their opinions and ideas matter and that their voice is heard. It's important to validate your kids always so that they have confidence built already as an adult.
Most kindergartners are very loud and forward about their many opinions and ideas about things in life. Help them channel all that brain activity through these writing activities.
With these activity worksheets, kindergartners will work on developing opinions by deciding what they think and why they think that. They will also be given opportunities to make a list of thoughts and reasons to tell other people how and what they think.
There is a four step process to use with this activity that helps younger kids translate all their many verbal thoughts that they speak out loud into writing their thoughts down constructively on paper.
Your students will be asked to write down their answers to questions like, "What is the best part of fall?", "What is your favorite color in the fall?", and more.
Check out these links for more free kindergarten writing practice worksheets.
CLICK HERE for hundreds of free homeschool printables
Be sure to follow the Free Homeschool Printables and Worksheets board on Pinterest!
The following two tabs change content below.
Latest posts by Isa Fernandez (see all)