Enjoy printing out these awesome free printable ice cream themed activity pages for your kindergartners to love.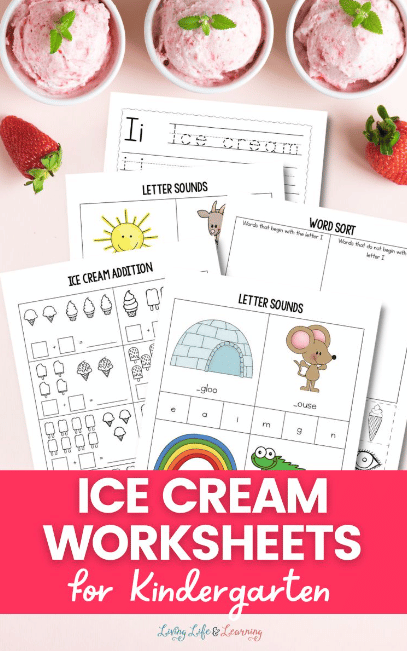 Free printable themed learning activity worksheets are perfect to add to your study lesson plans for your younger students who might be in preschool to first grade. They're usually easy extra practice and super simple to figure out how to download and print so there's no stress.
There's also no extra work or mess setting up or cleaning up with this awesome ice cream themed printable activity pages. All that you will need to get the most out of this free printable pack of ice cream activity pages are a printer machine, printer paper, scissors, and a pencil for writing with.
There are simple addition problems included with this free printable pack of ice cream themed learning activity pages, as well as letter sorting and sounds, and tracing practice.
All of these pages can make learning easy and fun for your kids which helps both parent/teacher and the student get ahead with a breeze. School doesn't have to be boring and stressful, you can make it something to look forward to and enjoy with great free printable helpful learning activity worksheets like these.
Check out these links below for more free printable activity pages.
The following two tabs change content below.
Latest posts by Isa Fernandez (see all)