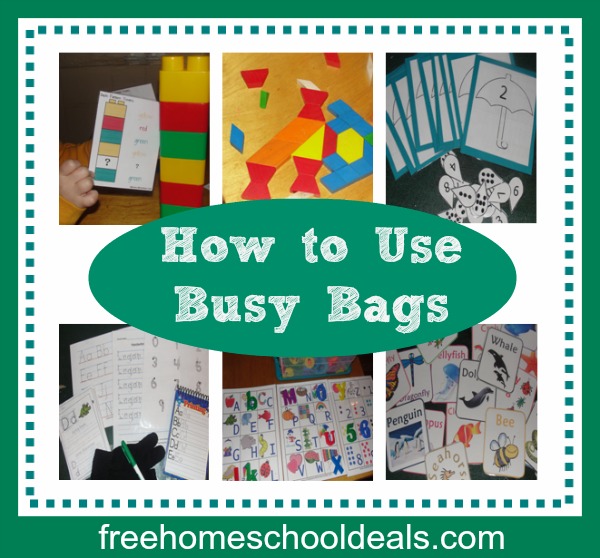 This is a guest post from Janeen of Sprouting Tadpoles!
How to Use Busy Bags
Homeschooling with 5 kids is not always the easiest thing to do. Having a 4-year old and 2-year old makes it even more interesting. When I learned about Busy Bags, I got super excited!
What a great way to keep my 2 little's entertained while learning at the same time.
I set out to create as many bags as possible. I searched Pinterest and bought the Preschool Activities book. So far, I have about 2 laundry baskets full of bags. As I am working with my 2 older boys in the morning, I pull out the basket for the 2 little ones. It keeps them busy long enough for me to get the older ones started on their work. Then I will spend some time playing with the bags and my little ones.
Busy Bag Ideas
Animal Card Bag
Animal Cards – These animal cards are one of my first creations! Click here to print these free Animal Cards. My 2 yo loves to look at these and calls them all "doggie". My 4 yo can identify them by name and we work on separating into groups – ocean, farm, zoo, insects, etc.
Egg Letter Match Bag
Egg Letter Match – Match upper & lower case letters and then put in alpha order inside an egg carton.
Alphabet Cards Bag
Alphabet Cards – These cards are from Freeology.com. I set these to 4-to-a-page on my printer, printed them onto colored cardstock and laminated. My 4yo can trace with dry erase marker, put in alpha order, identify the letters, trace with play dough, cubes, pompoms or any number of things.
Bottle Cap Letters Bag
Bottle Cap Letters – Once I had collected enough bottle caps, I put foam letter stickers on them. I think I have 3 or 4 per letter. We use these for lots of things. Put in alpha order, match the cap letter to letters on paper, spelling 2 or 3 letter words, find the letter that I call out. My 10 yo also uses these to practice his spelling words!
You will also want to print off these FREE Bottle Cap Color Activity Pages for additional learning.
Tracing Bag
Tracing Bag – My 4 yo loves this bag! He can trace letters, numbers, his name or just doodle. This bag is great for car trips or doctors appointments as all the writing keeps him focused and quiet.
I made his name page at HandwritingWorksheets.com. The small letter pages and ABC page came from A-Z Handwriting Worksheets at Confessions of a Homeschooler. I printed the smaller pages at 2-per-page and made a flip book.
I got the dry erase book from The Dollar Tree and I added a dry erase marker and glove for an eraser.
Go to 5 Dry Erase Busy Bag / Activity Bag Ideas  for more tracing activities and ideas.
Cube Patterns Bag
Cube Patterns – I got these printables from this post Block Puzzles Busy Bag  and the blocks came from Staples dollar section. Both boys like this bag because there are so many things to do with it: fill in the patterns, stack them, sort by color, make shapes, count them, etc!
Color or Shape Sorting Bag
Color or Shape Sorting – I got this idea from Color Sorting Busy Bag, but changed the contents of the bag. I already had circles cut from construction paper and foam shapes, so I just combined the two and made this bag. These can be sorted by color or shape or play memory match.
Pom Pom Letters Bag
Pom Pom Letters – I found these letter pintables from Homeschool Creations. These can be used with dot markers or with magnetic pom poms. Find them here.
ABC's Letter Match Bag
ABC's Letter Match – These pages came from Confessions of a Homeschooler's ABC's Letter Match. I printed these to be placed side by side so all letters can be seen. There are a lot of things you can do with these cards. Match with lower case letters, match using magnetic letters, letter tiles, play dough, dry erase tracing. My 4yo finds the magnetic letter that matches the picture. He loves this and its colorful and cute.
Weather Cards Bag
Weather Cards – these cards come from Mr. Printables and are a good way to teach little ones about the weather, the sun, moon & stars. Mine like to just look at them:). Mr. Printables has a ton of activities on their site.
I hope you enjoy these Busy Bags. I love making them and have tons more to show, so visit my site for more inspiration and ideas. Here are some more really great links to check out!
These moms have given me lots of ideas & inspiration
Other places for ideas
Donna Young has tons of pages that can be printed smaller and used in an activity bag.
Do-A-Dot Activities Pages to color with dot markers.
Homeschool Creations has tons of learning activities that can be printed, cut, laminated and put in a busy bag.
Confessions of a Homeschooler is another great site for activities to put in a busy bag.
Pinterest Boards
Please visit Janeen at SproutingTadpoles.com!
Busy Bag Resources
Busy Bag Ideas Board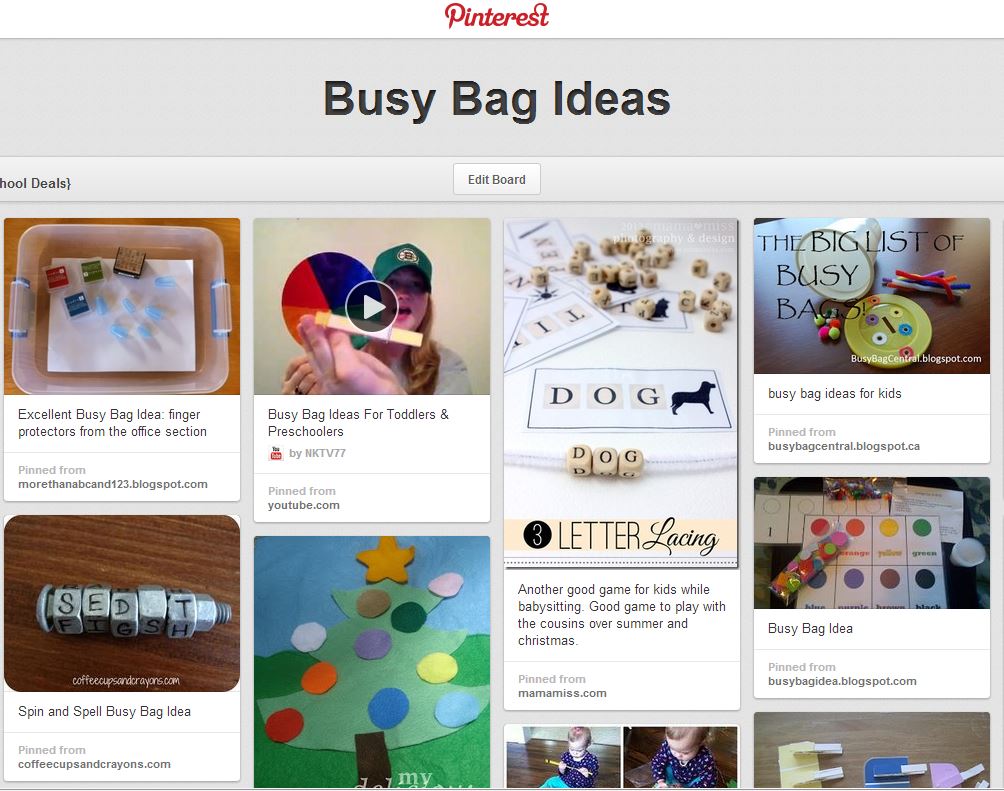 If you're looking for additional busy bag ideas just follow Jamerrill's Busy Bag Board!
Do you use Busy Bags in your homeschool? Tell us how you make them work!
The following two tabs change content below.
We are here to help families afford the homeschool life by providing the BEST homeschool freebies, deals, resources we can find & encouragement as we walk this journey together!
Latest posts by Free Homeschool Deals (see all)