Your horse loving kids will be sure to love these horse themed life cycle learning activity worksheet pages that you can add to current study lesson plans in school for free at no cost to you.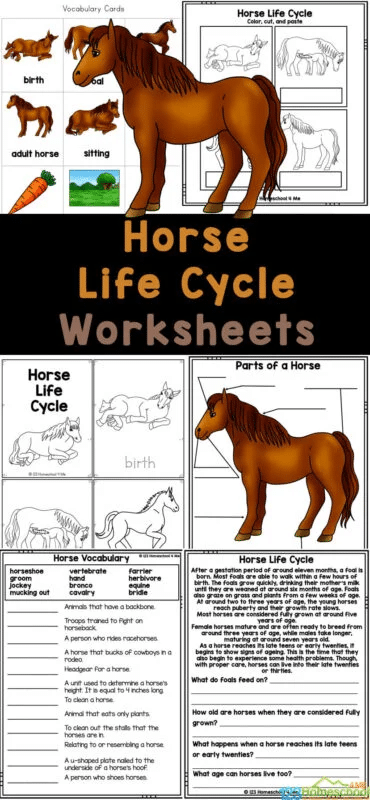 There are tons of fun fact reading material included with this super fun and free to print horse life cycle themed learning activity worksheet pages perfect for kids of multiple ages to be able to enjoy using.
There's also tons of coloring opportunities for your kids to be able to enjoy doing to make learning more exciting for kids to be able to look forward to doing. These pages don't include much work to set up doing at all and leave no mess behind.
These pages are geared more specifically towards students in elementary grade but mostly work well for students of all ages and can definitely be used amongst siblings and friends together despite possible age gapes.
If you're comfortable with your young kids using child safety scissors there are also cut and paste activities included with this wonderful fun and free to print horse life cycle themed worksheet pages. If not you can of course always cut out the pages for your kids before hand and just let them glue them where they're supposed to go.
Check out these links below for more free printable life cycle pages.
Find more FREE Homeschool Printables & Worksheets on our Pinterest boards!
The following two tabs change content below.
Latest posts by Isa Fernandez (see all)