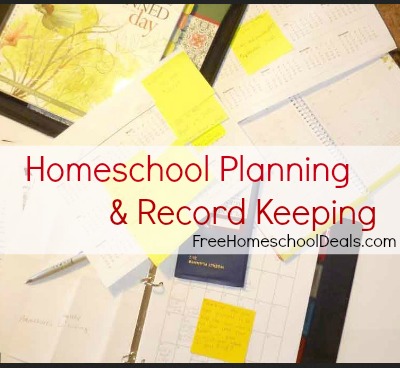 This is a guest post from Jennifer of AreWeCrazyOrWhat.net
Keeping Homeschool Records
Keeping homeschool records is a topic of much debate. Many homeschoolers think the very idea of record keeping is too much like public school and reject the concept. However, I'd like to suggest a few reasons to keep records that a few you might not thought have thought of before.
Planning vs. Record Keeping
First, let me say that there is a difference between planning and record keeping. Most people think of planning in terms of lesson planning, much like public school teachers do. Public school teachers have to plan out their lessons to make sure they are covering all the educational points required by their state.
As homeschoolers we might be required to do something similar depending on which state we live in, but a lot of us (such as those of us here in Texas) are not required to turn in such plans.
Record keeping is usually recording things that colleges and technical schools require for proof that a person has mastered certain skills and usually consists of things like grades and transcripts.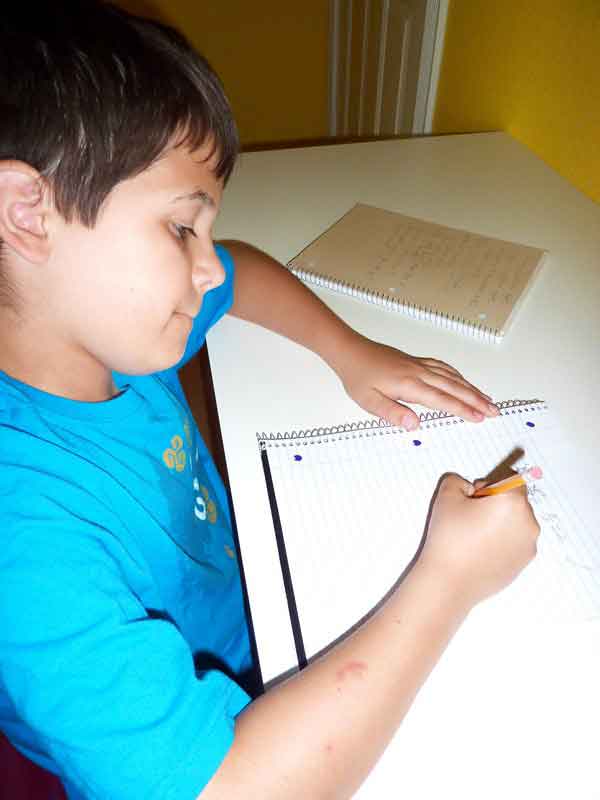 Teachable Moments
I do some planning in that I choose curriculum for my boys, and I have certain rules about books and other educational media, but I don't generally write down every detail of what I will be teaching in a day. I believe in those teachable moments, and being totally honest here, I just don't need more paper work.
When Life is Full
For a while when my boys were younger, just choosing curriculum and following it was enough. However, as my boys got older and I had all of them doing school, it became harder and harder to manage what page they were on in which book.
This was even harder to manage when we would take a week break for vacation, the holidays or just because it was beautiful weather outside and mom needed a break. Then it was almost impossible to manage during a time when I was distracted by my mother-in-law's illness. My focus was on her but my kids still needed to be schooled. So it was at this point that recording what we did each day seemed logical and helpful not only for me but for my kids.
Building the record keeping habit
Once I got into the habit of doing this, I noticed my days were more structured (in a good way). A lot of the guilt of me thinking I was not covering enough was gone and my kids could look back on weeks of school and feel a sense of accomplishment.
All my boys learned to record their own school and my 13 year old is working on keeping a planner of his own. It's a great tool for teaching time management!
We also keep records. My oldest is already in a high school level math course and I am keeping track of his grades so that I can write his transcript when he is ready to enter college. Most colleges require transcripts and in some states homeschoolers are required to turn in grades and transcripts. The task of writing transcripts sounds daunting but after some research I've learned it's really not that hard. The Homescholar has some great tips for writing your own transcripts.
How to Choose a Homeschool Planner
What kind of planner or record keeper should you choose? Well, there are many on the market and really it just boils down to what works best for you.
There are some great online planners, such as Edu-Track. They are a little pricey but they go all the way through high school and you can even send files to your teenager.
The Well Planned Day has a paper version and an online version. There are also a number of free planners that you can use – one of my favorites can be found here at Donna Young. I have used all of the above and while all had some great qualities none really fit the way I homeschool. The online planners seem like a great idea and Edu-Track in particular is very detailed. But it was just too much stuff to record – I had to be at my computer to record everything.
I was looking for color coding so I wouldn't have to use a different pen to keep track of each child and something simple enough so I could teach my boys to record things on their own. I could not find this anywhere so I designed my own planner.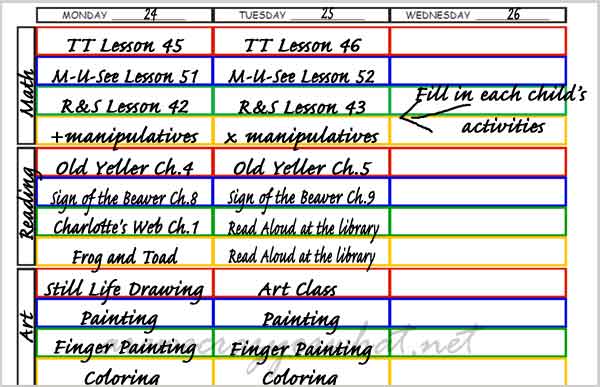 Of course there are those other minor reasons for recording your schooling each day. Perhaps you're on a one year trial with your spouse about homeschooling and you need to show him the results. Maybe grandma or grandpa need a little reassurance. You get the idea of how a record might help you out here. So even if making plans or keeping records goes against your educational belief system, maybe looking at it from a different perspective will give you a reason to try it this year.
Jennifer Osuch has been homeschooling in Texas for over eight years, and has spent time teaching in public school before having children. She is the mother of three very active and wonderful boys ages 13, 11, and 9. She insists that as many of her possessions as possible be the color pink to remind her house full of boys there is a lady a living among them. She enjoys writing, gardening, and the outdoors. She blogs at AreWeCrazyOrWhat.net about homeschooling and urban homesteading.
The following two tabs change content below.
We are here to help families afford the homeschool life by providing the BEST homeschool freebies, deals, resources we can find & encouragement as we walk this journey together!
Latest posts by Free Homeschool Deals (see all)