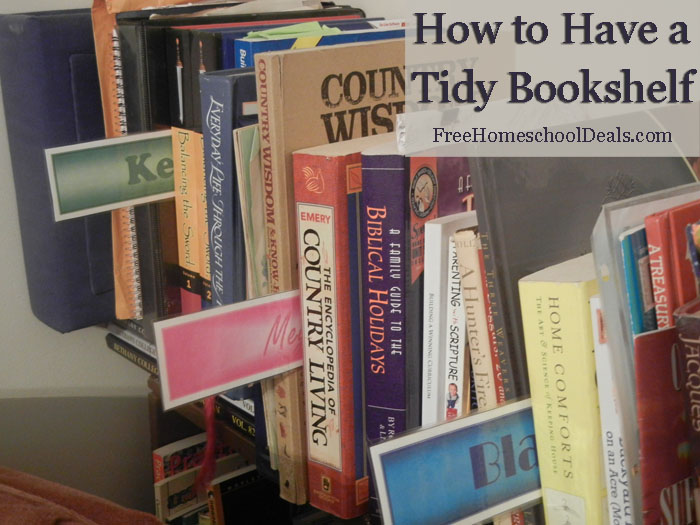 Several months ago, I posted a photo of my bookshelf on Facebook.  It wasn't pleasant.  I was embarrassed.  But I needed help, and Facebook seemed like the logical place for me to seek an answer to the burning question…
How do you keep a bookshelf (especially a homeschooler's bookshelf) neat and tidy?
Today, I want to share with you a few solutions to this problem that plagues nearly every homeschooler and book lover I know!
*Cull books and create space – I can't believe I just said that!  Yes, get rid of books.  It really is okay.  I know homeschoolers love books and they love to own books, but a house can only hold so many bookshelves (ask me how I know!).  My rule of thumb when I cull books is to ask myself if the book is really great, in great shape, and cannot be readily accessed at the local library.  Also, avoid owning twaddle.  Less twaddle means more room for great books!  (Check out PaperBackSwap as a place to get rid of books you don't need and get books you do need!)

*Categorize your books – You can get really technical and do an all-out Dewey Decimal system or you can do what I did and use categories that make sense to your life and school.  Use clear packing tape to add call numbers or categories to your books and/or bookshelf.  I have also seen this done via a dot system where you mark your books with a colored dot that corresponds with a certain category on your bookshelf.
*Keep a basket for toddler books – No matter what I do, I just cannot seem to train a toddler to put books away in a bookshelf correctly, so I gave up!  I have a basket of books just for the resident toddlers which makes clean up a snap.
*Teach everyone who is not a toddler how to put books away properly – Despite what they might say, they are perfectly capable of putting books back in the bookshelf properly.  Children need to be taught to respect books.
*Make your methods easy for kids – It isn't usually the adults in the family who create untidy bookshelves.  It is the children.  There are several great methods for making the tidying of the bookshelf an easier task, but I am most fond of those that are simple for mom and dad to implement.  All you need is some sort of marker that can be placed in the bookshelf where a book has been taken from so that book can be returned to its rightful place.  Some people use paint stirring sticks painted a certain color or marked with a child's name, some use a large sheet of laminated paper or cardboard, and some, like my friend Valerie, use the method shown in the above photo.  She typed out each of my children's names on cardstock using their special color (yes, we color-code our children) and I cut them out and laminated them with my handy-dandy laminator (aka "a homeschool mom's dream tool").
I must say, since implementing these ideas, my bookshelf is not nearly so embarrassing.  Yes, it is true…a tidy bookshelf makes for a happy homeschool mom!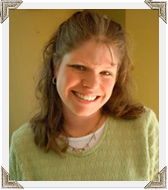 Amy of RaisingArrows.net is the homeschooling mother of 6 (soon to be 7) living children and one precious little girl named Emily being held in the Lord's arms. Her days are filled with giggly girls, rambunctious boys and sticky baby kisses. At night, she writes about it all with the desire to encourage and equip other mothers in the trenches. Follow Amy on Facebook, Pinterest, and Twitter.
The following two tabs change content below.
We are here to help families afford the homeschool life by providing the BEST homeschool freebies, deals, resources we can find & encouragement as we walk this journey together!
Latest posts by Free Homeschool Deals (see all)