Check out these totally fun and free printable Harriet Tubman worksheets for your students of multiple ages to be able to have fun while learning at the same time while at home or in a classroom full of kids.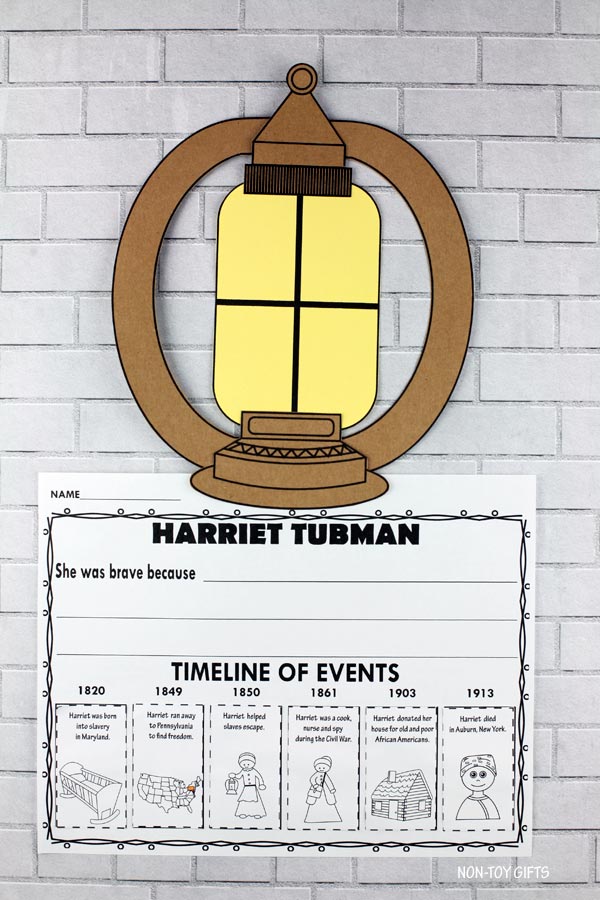 This free printable Harriet Tubman worksheet pack is perfect for kids this time of year to learn and celebrate black history month, or women's history month in March. You can easily add these free helpful worksheets to any of your student's history study lesson plans that you might have already.
Learn the importance of Harriet Tubman and the things that she did to help slaves by reading these helpful free printable history worksheets, and by having fun following the craft instructions.
Read new information and history on Harriet Tubman with these free printable history pages. There is also space for writing, answering questions, and note taking. Have fun making your very own paper lantern craft and learn about how Harriet Tubman used lanterns a long time ago to help slaves try to escape for their freedom through the Underground Railroad.
Included with this free printable Harriet Tubman craft pack is a paper timeline to help learn the historical events in which they happened. Kids can cut and paste six pictures in the correct order in which things happened.
Check out these links below for more free printable history worksheets.
CLICK HERE for hundreds of free homeschool printables
Be sure to follow the Free Homeschool Printables and Worksheets board on Pinterest!
The following two tabs change content below.
Latest posts by Isa Fernandez (see all)