Use this free printable holiday cleaning checklist to help you stay clean, organized, and stress free this holiday season.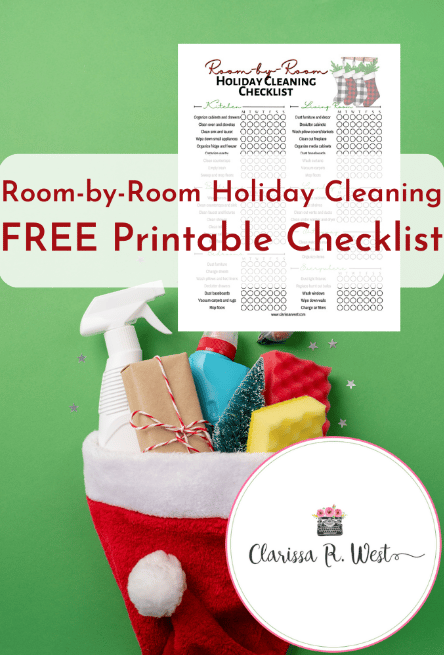 During busy holiday seasons it's so easy to feel overwhelmed by trying to keep the house clean while doing everything else at the same time too. This wonderful and helpful free printable holiday cleaning checklist will help keep you reminded and organized keeping a clean house even during the busiest of times.
This free printable holiday cleaning checklist is very pretty looking with a nice Christmas design all around as well as great ideas and examples of what to remember to clean around the house this holiday season. You can choose to follow the lists or come up with your own that weren't yet listed.
This page is split into two columns, kitchen and living room, and every day of the week to be shaded or colored in after being completed. This is a great guide for the whole family to use together sharing responsibilities around the house.
Some examples included on the holiday cleaning list are wiping down the walls, cleaning out the fireplace, organizing the pantry, and so much more for you to check on, clean up, and feel good about.
Check out these links below for more free printable list ideas.
The following two tabs change content below.
Latest posts by Isa Fernandez (see all)