Are you needing to spark some creativity in your children to write fun and engaging stories? Then, use a writing prompt! Check out these FREE Writing Prompts about Community Helpers from Homeschool Giveaways!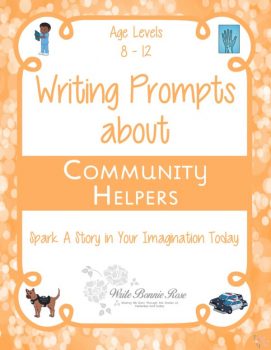 Writing Prompts About Community Helpers is a new writing prompt series with ten writing prompts for children between the ages of 8-12.  They will learn and write about the jobs of a carpenter, hairdresser, police dog, veterinarian, and more! You'll be sure to find something that will spark your child's inspiration to write! And, it helps to give them a better understanding of their community. These writing prompts are a great activity to take on a little field trip around town. Being able to envision the job can also help spark some creativity!
For other similar resources, check out: Creative Writing Prompts: Community Helpers and Instant Download: Firefighter Creative Writing Prompts
The following two tabs change content below.
Keri
Keri is a former elementary and middle school teacher who's worked overseas for 4 years. She loves to write and so decided to pursue her writing dream!