Study U.S. Geography for an entire year with these FREE Unit Studies of all 50 States!
Studying one state per week, your student will learn about the history of each state, geographical features, state symbols, famous people, common flora and fauna, foods and recipes, and must-see sites, including national parks. Each unit study contains a resource list of books, websites, apps, games, puzzles, activities, and more to make the study both fun and educational.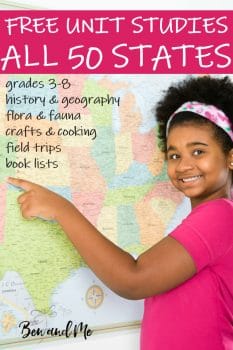 If you plan it all out, you can have a whole year of U.S. geography study appropriate for the elementary or middle school level. Or, if you want to take it slower, you can adjust the timing however you want! There are so many amazing resources included: learning the history, physical features, and state symbols with puzzles, websites, games, and more!
For other 50 states resources, check out:
The following two tabs change content below.
Keri
Keri is a former elementary and middle school teacher who's worked overseas for 4 years. She loves to write and so decided to pursue her writing dream!