Teaching rhyming in your homeschool? Then, you will love this resource from Tara at Homeschool Preschool!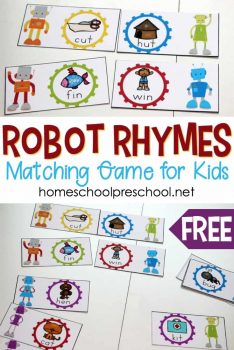 It is a 40 card total Robot-Themed Rhyming Words Game! Print in color to add a little extra fun to it. There are images as well as the word on each card, and your child can match the rhyming words! Rhyming is useful in developing their reading skills because they can practice their letter sounds and sight words.
Click here for other robot-themed activities!
Click here for other rhyming word activities! 
The following two tabs change content below.
Keri
Keri is a former elementary and middle school teacher who's worked overseas for 4 years. She loves to write and so decided to pursue her writing dream!