The Apologia's Young Explorer Series is a great set of books to use for your science curriculum! Check out the Printables and Ideas for Apologia's Zoology 1: Flying Creatures!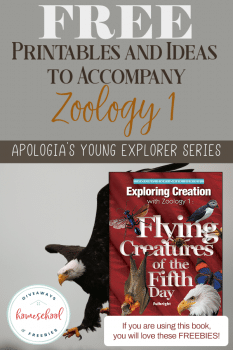 Carrie at Homeschool Giveaways has organized it all for you. If you follow the Apologia Series or want to start, and are interested in teaching zoology to your child, then you will love this list of printables and ideas! There is a set for each lesson that corresponds with the book. She even provides the link for purchasing Zoology 1: Flying Creatures.
If you're looking for other Apologia Young Explorer Series resources, check out Apologia's Astronomy Book Printables and more!
For more zoology resources, take a look at Printable Science Games, Zoology Printables Set and Lesson, and more!
The following two tabs change content below.
Keri
Keri is a former elementary and middle school teacher who's worked overseas for 4 years. She loves to write and so decided to pursue her writing dream!