Are your kids learning about their shapes this year in school? Learning the different kinds of shapes and what their names are can be confusing. Make learning easy and fun with these free printable shape pages.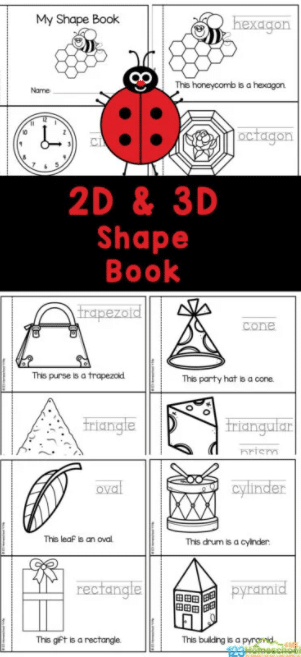 Take a look at these free printable 2D and 3D shape pages that you can download and print to turn into a book at home, or you can make them for a classroom of students to use too.
Let your kids pick out their favorite colored crayons, markers, or colored pencils to color the shapes on the free printable pages to become more familiar with what the shapes are and to decorate the pages too and make them more unique.
If you're using the free printable shape pages in a classroom it will be fun to watch each student as they decorate their pages in their own way. Laminate the pages and turn them into a book if you have the ability to so that your students can keep and use them later if they have to as a reference or as review.
Included in this free printable shape book for kids are hexagons, octagons, trapezoids, and more. There is also space for your kids to be able to trace the words on the shape pages to help with their spelling and handwriting skills.
Check out these links below for more free printable worksheets for your kids.
CLICK HERE for hundreds of free homeschool printables
Be sure to follow the Free Homeschool Printables and Worksheets board on Pinterest!
The following two tabs change content below.
Latest posts by Isa Fernandez (see all)