Reading aloud to children is a great way for them to fall in love with reading and hear how a fluent reader sounds! Many homeschooling families incorporate read-alouds into their days as a way to broaden their children's knowledge on a specific subject, or even just as a way to create lasting memories.  But, it can be tough to read to children who have trouble sitting for too long. So, check out FREE Printable: How to Keep Kids Busy During Read-Alouds from Leslie Maddox.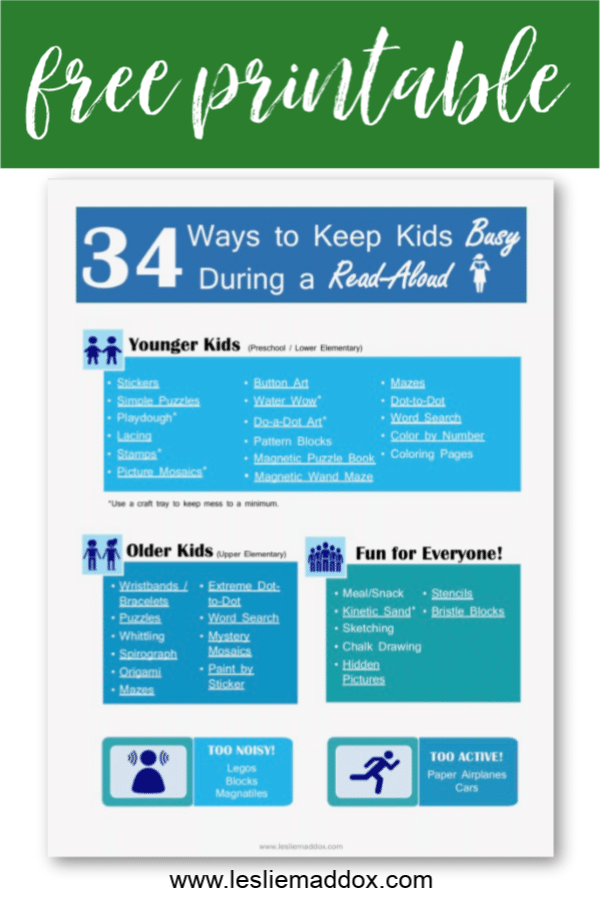 You'll find activity ideas categorized by age – activities appropriate for pre-school/lower elementary, upper elementary, and a few activities that are fun for everyone. You'll also find a couple of activities to avoid because it's no fun reading over too much noise or to an empty room!
For other read aloud resources, check out:
The following two tabs change content below.
Keri
Keri is a former elementary and middle school teacher who's worked overseas for 4 years. She loves to write and so decided to pursue her writing dream!