Phonograms are letters or groups of letters that create a single sound together. For example, the phonogram "sh" creates a single sound. Practice these with your young learners with this awesome Jungle Phonogram Bingo!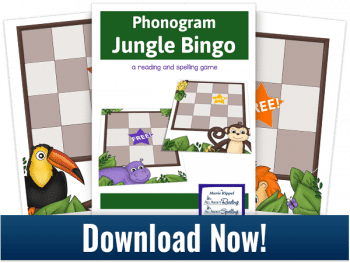 Print these out from All About Learning! There a few different boards to choose from, and your child can play with bingo chips or candies. Also included are the phonogram cards to play the game, and some boards have blank spaces in which to write the phonograms your child is practicing. TIP: Another way to practice phonograms more deeply is to have your child say the sound back to you once you have dictated the sound.
For other related phonics work, check out this Swatting Phonograms Game!
The following two tabs change content below.
Keri
Keri is a former elementary and middle school teacher who's worked overseas for 4 years. She loves to write and so decided to pursue her writing dream!