The skeletal system is what protects our internal organs, give us our body shape, and so much more! If you are learning about this important system in your science anatomy studies, you are going to love this new freebie from Homeschool Giveaways: FREE Notebooking Researching Journal: Diseases of the Skeletal System!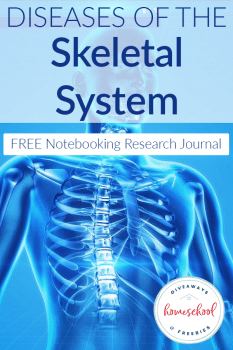 The skeletal system is an amazing system in our body, but what happens when disease hits and what types of diseases can the skeletal system get? With this notebooking research journal, your children will learn the causes, symptoms, and treatment of broken bones, bursitis, carpal tunnel syndrome, osteoarthritis, osteoporosis, rheumatoid arthritis, rickets, scoliosis, and spina bifida. There are ten pages in all. And, it's great practice for researching and note-taking!
For other research journals, check out:
The following two tabs change content below.
Keri
Keri is a former elementary and middle school teacher who's worked overseas for 4 years. She loves to write and so decided to pursue her writing dream!