Hands-on learning is the way to get concepts to stick as well as engage and motivate the learner to complete the task. One way to build multiplication and division understanding is through using place value! Check out these Multiplication & Division Place Value Help Mats from 3 Dinosaurs!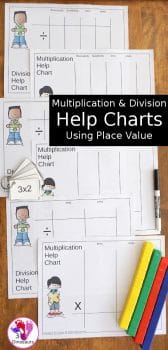 There are multiple ways you can use these mats. You can use dry erase markers or unifix cubes or other markers. Using place value mats helps your child to visualize the multiplication problem and see it broken down.
For other multiplication & division resources, check out:
The following two tabs change content below.
Keri
Keri is a former elementary and middle school teacher who's worked overseas for 4 years. She loves to write and so decided to pursue her writing dream!