Tara at Homeschool Preschool has a ton of preschool resources to use with Johnny Appleseed, and this Letter Matching Game is a great addition!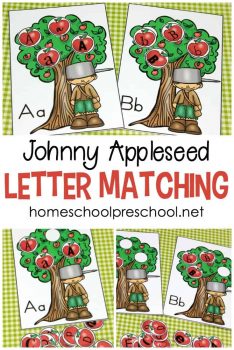 For each letter of the alphabet, there are sorting cards. There are also apple tree cards with a letter on them and they have missing apples. So, your child must sort through the alphabet sorting cards to find the letter apples that go into the right tree! What's great about this resource is that it really focuses on letter recognition because there are 4 cards for each letter in different fonts and upper and lowercase! It's a great exercise in identification.
For other Johnny Appleseed resources, take a look at the Johnny Appleseed Activity Pack, Johnny Appleseed Preschool Learning Pack, and more!
The following two tabs change content below.
Keri
Keri is a former elementary and middle school teacher who's worked overseas for 4 years. She loves to write and so decided to pursue her writing dream!