Children start to learn to read by first learning their name and being able to recognize it on the page. Use this French Fry Name Recognition Activity to practice with names and other words in a unique and fun way!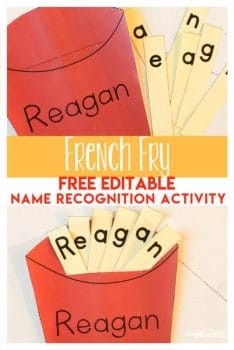 Beth at 123 Homeschool 4 Me has created a really cute french fry activity for your preschoolers to practice spelling their name and recognizing the letters in their name. The template is a french fry box plus french fries. You can write the name or another word you want your child to practice on the red fry box (or make it traceable) and write the letters that will be used onto the fries. Then, your child can practice putting the fry letters in the correct order in the fry box! You can use this with other names or other important sight words to practice spelling!
For other name recognition activities, check out Flower Garden Name Activity and Ice Cream Name Printable!
The following two tabs change content below.
Keri
Keri is a former elementary and middle school teacher who's worked overseas for 4 years. She loves to write and so decided to pursue her writing dream!