Easy Readers are a fun way to practice both phonics and reading. Build this Football -ALL Endings Easy Reader book yourself from 3 Dinosaurs!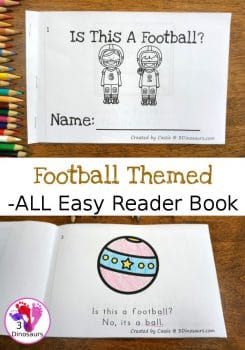 Your child will get the chance to practice their reading and their -ALL endings with this resource. Each page is set up in the same format and includes a different -ALL word. All you need to do is print it out and staple it together, you're ready to start!
For other Easy Reader books, click here!
To find other resources that work on word endings, check out our Word Ending Practice Pack and more!
The following two tabs change content below.
Keri
Keri is a former elementary and middle school teacher who's worked overseas for 4 years. She loves to write and so decided to pursue her writing dream!