Practice even and odd numbers with your child with this Farm-Themed Even and Odd Spinning Printable!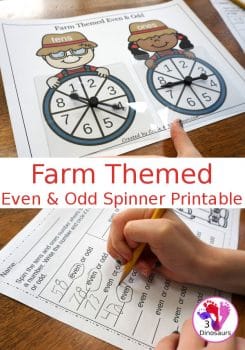 On the spinner page, there is a wheel for the tens place and one for the ones place. You can use transparent spinners for each. Your child will use the spinners to create a number and record it on the recording sheet. It's a great resource from 3 Dinosaurs to help practice even and odd numbers.
For other spinning resources, check out:
The following two tabs change content below.
Keri
Keri is a former elementary and middle school teacher who's worked overseas for 4 years. She loves to write and so decided to pursue her writing dream!