These CVCC Word Family Word Paths from 3 Dinosaurs are a great way to practice reading word endings and seeing and hearing the difference.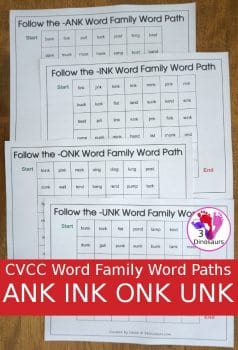 There is a page for each word family (which includes other words not in that family), and students must go on a hunt down the path to find all the -ink words, for example. You can use markers such as unifix cubes, bingo chips, or clear flat marbles. It helps your children practice their fine motor skills too!
*Note: also on this page, you can purchase the entire word family word paths set at once for a small fee. But, individually, these printables are free.
For other word family word paths, check out the CVCC Word Family Word Paths Printable Pack!
The following two tabs change content below.
Keri
Keri is a former elementary and middle school teacher who's worked overseas for 4 years. She loves to write and so decided to pursue her writing dream!