Do you have a child who always seems to be involved in conflict? Does he or she struggle to handle conflict in a biblical way? Is tattle-telling, bickering or other negative behavior a problem in your home?
Then you're not alone! This free Character Training Journal from Sisters with a System was created to help you teach your child to work on dealing with negative character traits such as anger, selfishness, discontent, and unkind speech and instead "put on" love, kindness, mercy, peace and joy.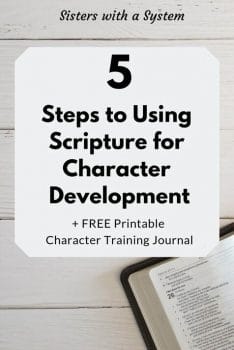 This journal will help your child to:
1. Identify a particular behavior pattern that needs to change.
2. Replace bad behavior with godly behavior.
3. Find applicable scriptures to memorize.
For other similar resources, check out Printable Character Development Cards and Aesop's Fables Lapbook Set
The following two tabs change content below.
Keri
Keri is a former elementary and middle school teacher who's worked overseas for 4 years. She loves to write and so decided to pursue her writing dream!