Stuck in a reading rut? Everyone experiences it. Since reading is meant to be pleasurable, we often stick with the same genre of books that we enjoy and that we're comfortable with. But reading is also meant to be a learning experience, and we learn more when we challenge ourselves. For both you as the homeschooling parent as for your homeschooler, try out this FREE 30-Day Reading Challenge!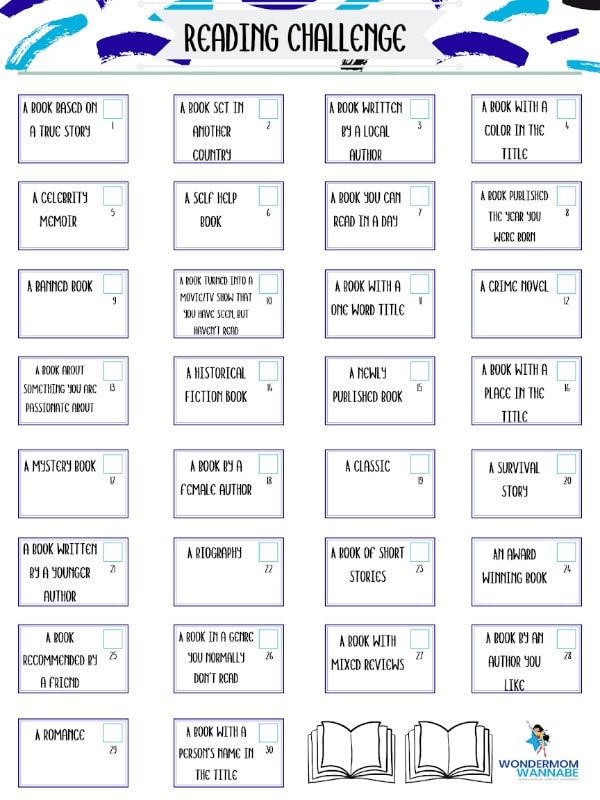 The challenge from Wonder Mom Wannabe is not linked to any specific month, so you don't need to start it at the beginning of a month. There are simply 30 different challenges with numbers on them and a blank checkbox. The focus of the challenge is to explore different genres, so each daily challenge is to read a chapter or a section of a book within that genre. We know it's not possible to read a book a day! you might learn something new or find a genre or a different style of book you never expected to enjoy! This is great for you, but it also works for older students. In addition, you could adjust it for your younger children to try out. 
For other similar challenges, check out:
The following two tabs change content below.
Keri
Keri is a former elementary and middle school teacher who's worked overseas for 4 years. She loves to write and so decided to pursue her writing dream!