Practice sequencing with your preschooler with these lovely 3 Step Sequencing Cards from Homeschool Preschool! Learning the skill of sequencing is helpful with math and ordering as well as literacy and learning about the structure of story.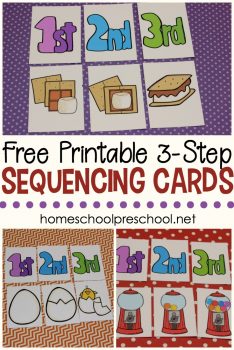 There are 25 sets of sequencing picture cards as well as a set of 1st, 2nd, and 3rd cards. Students will look at the 3 images (such as an egg hatching) and order them from 1st to 3rd action. This is a really quick and fun activity that can be done daily and incorporated into multiple subjects. Enjoy!
To get more sequencing practice: Check out Summer Sequencing Printables, Nursery Rhymes Sequencing Printables, and more!
The following two tabs change content below.
Keri
Keri is a former elementary and middle school teacher who's worked overseas for 4 years. She loves to write and so decided to pursue her writing dream!