Discuss different kinds of feelings this fall with your students with this super easy to use, fun, and free printable fall themed emotions mini book.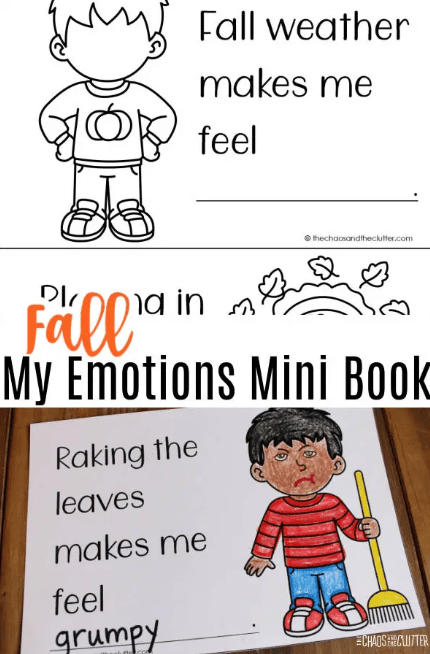 It is important to discuss different kinds of feelings and emotions with your kids while they are at a young age and help them to process and figure out how they feel about certain things. You can help them out plenty by using this great free printable fall themed emotions book.
The pages for this fall themed feelings mini book include different phrases for your children to be able to fill in saying how they're feeling as well as tiny people to color and draw faces on whether they're happy or sad.
The instructions to enjoy this free printable fall themed feelings mini book are pretty simple to follow. All you have to do is download, print out, and cut the pages to give to your kids to fill out and decorate and then you can turn it into a keepsake book for them.
What makes this feelings book fall themed are the activities shown on the pages that ask how your kids feel about them.
Kids will be able to have fun while learning at the same time with this helpful, free printable, fun fall themed feelings mini book.
Check out these links below for more free printable fall themed activities.
The following two tabs change content below.
Latest posts by Isa Fernandez (see all)