This donut themed number maze free printable learning game is absolutely the perfect printable activity for your kids to be able to enjoy this summer.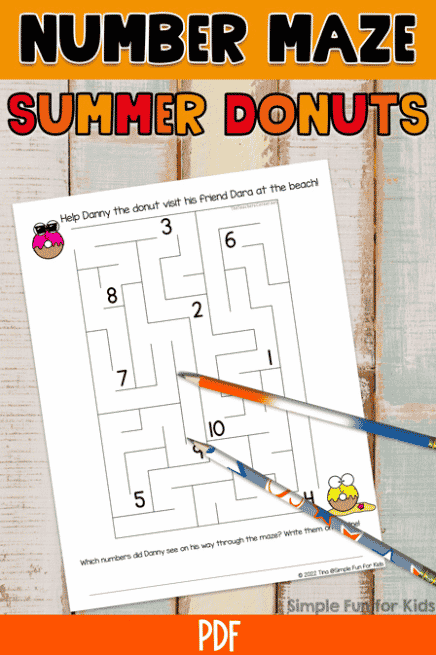 All that you will need to have available to use to enjoy this wonderful free printable donut themed number maze is a printer machine, the free PDF download, one sheet of printer paper, and something to write with.
Your kids can use colored crayons, markers, colored pencils, pens or any other kind of writing utensil that you approve of for them to use on this fun and free printable donut themed number maze learning activity.
The great thing about printable learning activities like this and using them for your kids during summer break is that they can have fun while taking a break from doing normal school work without having to take a break from exercising their brain. They are still practicing learning things which makes it easier for them to transition back into doing schoolwork in the fall time.
There are different numbers included in the maze that your child will cross on their way to the end and at the bottom of the page it asks your kids to write down which numbers that they went over along the way. This fun learning exercise helps build number recognition skills for your younger students.
Check out these links below for more free printable mazes.
The following two tabs change content below.
Latest posts by Isa Fernandez (see all)