Check out this awesome free printable puzzle learning activity game that can help your early elementary aged students with practicing their division solving skills.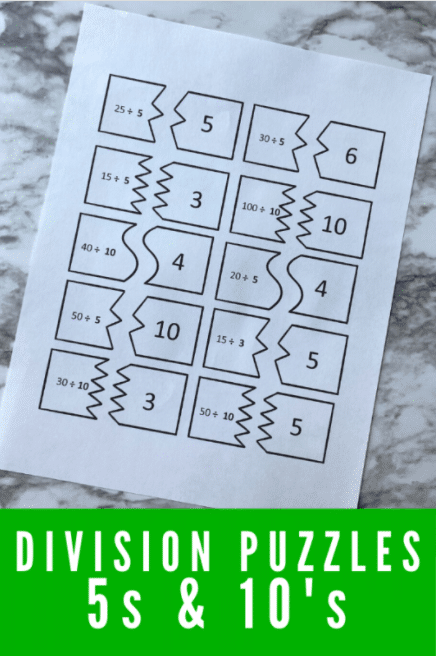 Learning how to solve division problems in math can be challenging for some students. Take advantage and enjoy these free printable division math worksheet recourses.
Practice dividing by 5s and 10s and have fun while getting to play and learning at the same time with this fun and free printable division puzzle learning activity game.
This is an easy, low preparation, free printable division puzzle solving learning activity game for you to be able to print off to use comfortably at home with your student. This free printable division puzzle activity would also work well to use in a classroom full of multiple students.
Let your elementary students be able to have fun while learning. Learning something new doesn't have to be hard and scary, and if you make it fun for the kids they are more likely to understand and remember better the things that they learn.
Print off and cut this free division puzzle activity for kids to help them practice and learn. After printing out the puzzle pieces and you cut them out, laminate the puzzle pieces for better and longer use if it's possible for you to do so.
Check out these links below for more free printable activities for your kids.
CLICK HERE for hundreds of free homeschool printables
Be sure to follow the Free Homeschool Printables and Worksheets board on Pinterest!
The following two tabs change content below.
Latest posts by Isa Fernandez (see all)