Have fun with your students using this free to print pack of color themed poem pages that are perfect for kids of multiple ages and grade levels.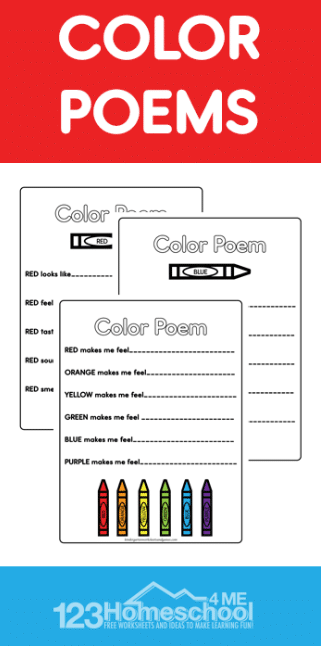 Absolutely perfect for students in varying elementary grades to be able to use by themselves or in a group full of students who are all learning together, these wonderful fun and free to print color themed poem pages are great for adding to your school lesson plans or just to have around to use for fun.
This is a great learning exercise for students to practice creativity using colors to express how they feel. It's a way to use something that they're familiar with like basic colors and practice their writing poetry skills.
Students will be prompted to discuss how said colors make them feel, think of, looks, smells, and tastes like, amongst other things.
This free to print pack of color related poems includes six different pages with different colors to fill in the poems and one page combining all of the colors on one page.
Consider this a fun free to print learning page that your kids will enjoy doing for fun or if you want to add to your lesson plans in school.
Check out these links below for more free to print color pages.
The following two tabs change content below.
Latest posts by Isa Fernandez (see all)