Help kids learn all the colors they need to know with this awesome free printable colors worksheet!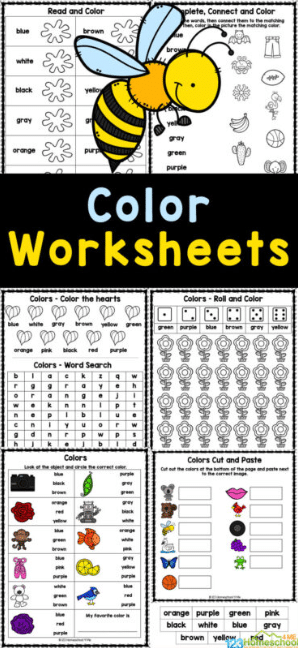 This awesome free printable pack is a great way for kids to learn every color. These fun and free to print color learning activity worksheets come with images and the colors labeled on them.
What a wonderful learning activity that's free to print, easy to download and use, to have to incorporate in your daily learning lesson plans in school for preschool, pre-k, and kindergarten this year.
Get together all of your most favorite colored crayons, markers, colored pencils or whatever else you prefer using to have ready for this super awesome free to print color learning activity worksheet page set.
Practice identifying and matching colors with their correct names. Read them off and work with your students if they are unable to read yet themselves.
This is a great color learning activity worksheet set to have for teaching your kids at home, or to use in a school classroom setting.
This free printable pack of color learning activity worksheets includes fun things for your kids to look forward to such as a color maze, color word search, roll and color, and much more that your kids can pick and choose from what they'd like to use first.
Check out these links for more color learning printables.
The following two tabs change content below.
Latest posts by Isa Fernandez (see all)