Check out this cute and awesome cat activity worksheet for your children to enjoy!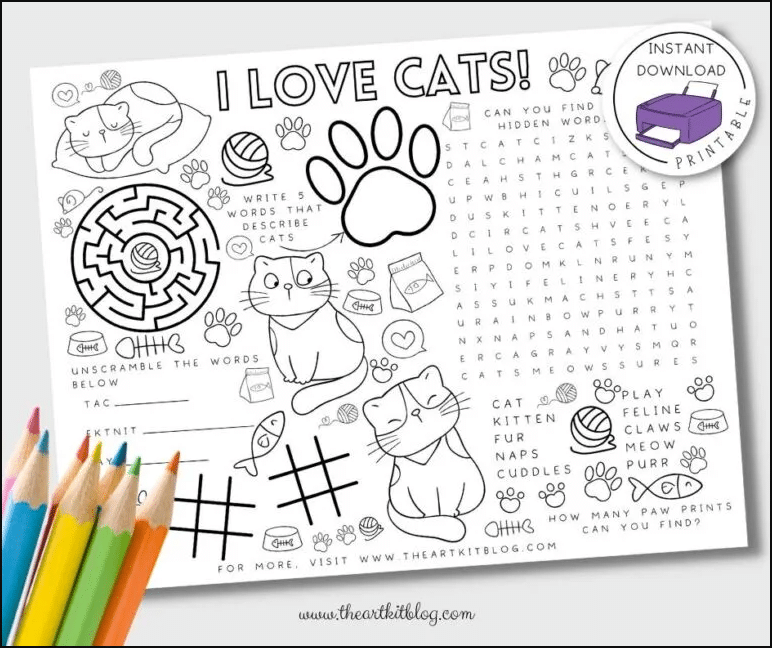 This awesome cat worksheet has so many activities for your students to enjoy and learn about their furry friends! Any cat lover in your classes or in your family will love filling out this worksheet with different games and challenges themed around cats! There are games on this page, and word challenges for kids to learn different things about cats.
This cat worksheet is so detailed, it can also be used as a fun way to teach kids about cats and for them to learn in such a fun way. They can learn many different words that describe cats and practice spelling these words using the unscramble or the word search. Along with learning, kids can also have a ton of fun using the tic tac toe mini game or can try and make it out of the maze!
This free printable cat worksheet is available for download and is perfect for any setting for your children. It can be printed and used at home or in a classroom setting. Get your page today and enjoy this free cat themed activity worksheet with your children!
Click these links below to find more cat related free printable pages!
The following two tabs change content below.
Latest posts by Isa Fernandez (see all)