Check out this super fun, cute, and free to print beautiful butterfly coloring page for kids that also helps teach and provide practicing for writing in cursive for kids.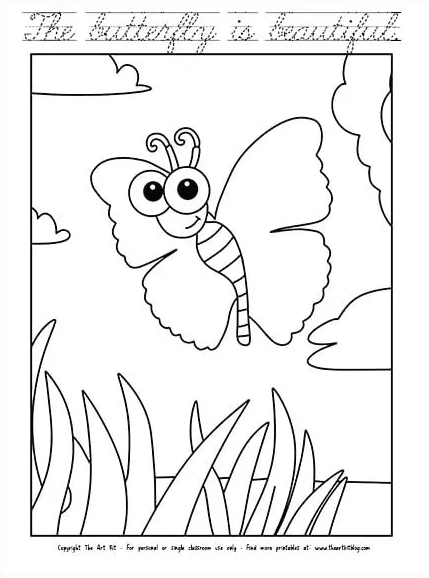 Cursive is slowly becoming taught less and less these days but it's super easy and important to teach kids. This butterfly themed coloring page is free to print and provides an opportunity at the top of the page for your students to be able to practice tracing in cursive writing.
Use all of your most favorite colored crayons, markers, colored pencils, or whatever else that you have and prefer using for coloring and decorating this awesome, super easy, and free to print butterfly themed coloring page.
You can add this butterfly coloring page to unit study lesson plans for learning about butterflies or other things out in nature or just have this coloring page to keep your kids entertained, busy, and occupied.
Coloring pages are excellent for keeping your kids happy and without having to involve using screens and you can take coloring pages anywhere to do at anytime that works best for you.
Kids of all ages and grade levels are able to enjoy using this fun and free to print beautiful butterfly themed coloring page which makes it perfect for siblings and friends to be able to share together.
Check out these links below for more free printable coloring pages.
The following two tabs change content below.
Latest posts by Isa Fernandez (see all)