These August themed coloring pages are excellent to give to your kids of multiple ages to be able to enjoy doing whenever and wherever that they would like.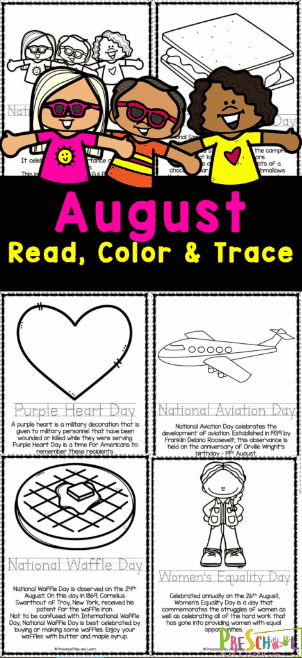 Coloring pages are great free printable activities to give to your kids for them to be entertained, occupied, and keep them from complaining about being bored without having to stick them in front of a screen of some kind.
This free printable pack of August themed coloring pages come with reading, coloring, and tracing activities to keep your kids busy while enjoying what the pages have to offer.
Learn all about different fun national days to look forward to celebrating in the month of August with these fun and free coloring pages. You have National Waffle Day, National S'mores Day, National Friendship Day, and much more for you to color and learn about.
Coloring pages are perfect for kids of all ages to be able to do enjoy, no matter how young or how old. Even adults can enjoy doing coloring pages too just for some relaxing downtime. This makes these August themed coloring pages great for the whole family to be able to do together.
Check out these links below for more free printable coloring pages.
The following two tabs change content below.
Latest posts by Isa Fernandez (see all)