Take a look at these fun alphabet matching worksheets perfect for any of your students who are learning the alphabet and want to master their letters in a fun and engaging way.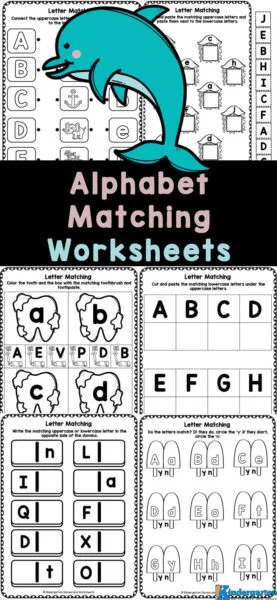 These awesome alphabet matching worksheets are the perfect activity for students who are learning their alphabets and want to practice them in a fun and exciting way. They can do just that with these alphabet matching worksheets which come with different activities for kids to memorize their letters.
Each sheet in these alphabet matching worksheets come with a different activity for kids to find the letters and match the upper case and lower case version of each letter. This makes it perfect for both early learners and more advanced learners to use these alphabet matching worksheets and get practice in with them.
Each of these alphabet matching worksheets have designs that can make them color friendly. You can bring out the colored pencils and crayons to take these alphabet matching worksheets even further into a coloring activity as well for more added fun.
You can have these alphabet matching worksheets ready for your students to use today using the link down below. Your students are sure to have a blast and enjoy these alphabet matching worlsheets.
Check out these other alphabet printables.
Find more FREE Homeschool Printables & Worksheets on our Pinterest boards!
The following two tabs change content below.
Latest posts by Isa Fernandez (see all)