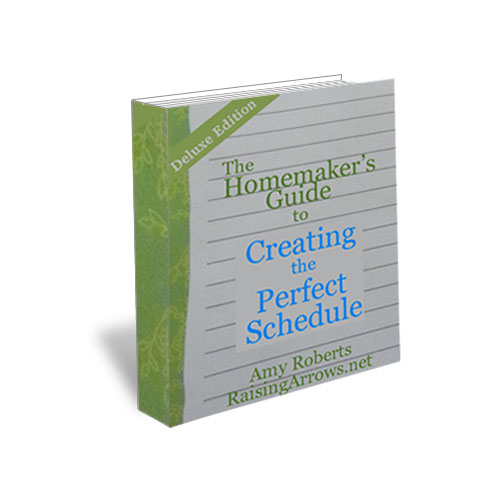 As homeschool moms we are always fine-tuning our homemaking and homeschool schedules. That is, when we have a homemaking and homeschooling schedules (or, I may be alone on this one. ;)) I was just introduced to a gem of a planning tool to help you revamp and customize a schedule that would work perfectly for your family.
My friend Amy of Raising Arrows has just released a the deluxe edition of her new eBook,  The Homemaker's Guide to Creating the Perfect Schedule.  In her new book Amy shares wisdom on not only creating a homemaking schedule that works for you, but also helpful advice to designed a homeschool schedule that fits your family needs.
A few of the highlights from The Homemaker's Guide to Creating the Perfect Schedule include:
Learn how to work with your unique family dynamics
How to make a schedule stick
How to get your children to do chores
Step-by-step instruction on how to put together a workable homeschool schedule
How to teach your children to work independently
Here's a preview of the table-of-contents: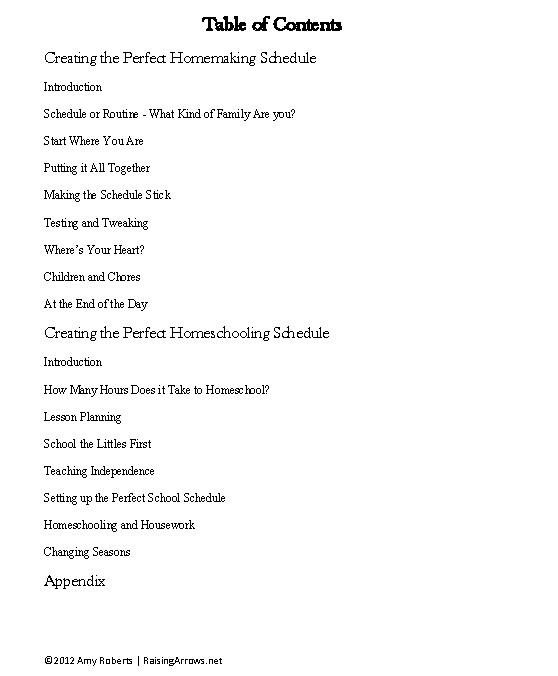 Amy has also included several bonus charts and planning forms which makes this deluxe edition eBook a steal at just $4.99!
Comments
comments