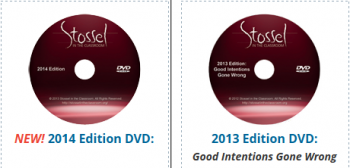 Home educators and other teachers can now get the free Stossel in the Classroom 2014 DVD.  The free DVD is 47 minutes long and contains the following eight segments:
College Tuition and Campus Luxuries
Product Liability Lawsuits: Who Gets Burned?
The Fracking Debate
High Speed Rail: Boondocks & Boondoggles
Food Nannies: Who Decides What You Eat?
The Psychology Behind Political Campaigns
The free 2013 DVD is also still available to order.
I verified with Stossel in the Classroom on Facebook that homeschoolers can take advantage of this free offer. Read my question and the response here.
Thanks, Money Saving Mom!
Click here to find more homeschool freebies!
Comments
comments