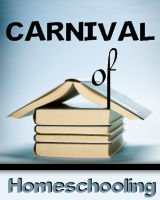 Welcome to the 312th edition of the Carnival of Homeschooling!  This is my 1st time hosting, and what a lovely bunch of submissions this week.  Do you need a variety of homeschooling encouragement and inspiration? 
Check out the blogs below!
"The way you help heal the world is you start with your own family."
~ Mother Teresa
Nak presents Love All Lovely posted at Sage Parnassus.
Cristina Payne presents Home Spun comic strip #688 posted at Home Spun Juggling.
Rational Jenn presents Perfectionism and Homeschooling posted at Rational Jenn.
Kathi Weiss presents Why Do We Have To Learn Multiplication?  posted at Homeschool Online.
"I never teach my pupils. I only attempt to provide the conditions in which they can learn."
~ Albert Einstein
Lisa Nehring presents Integrated Parenting 101 posted at Golden Grasses.
Bethany presents Panning (and fleecing) for Gold posted at Little Homeschool Blessings.
GT Laden presents How to not get caught plagiarizing  posted at Greg Laden's Blog.
Joe Morgan presents 5 Bad Habits About Money Kids Learn From Their Parents  posted at Simple Debt-Free Finance.
"The truly educated person has only had many doors opened. He knows that life will not be long enough to follow everything through fully."
~ Susan Schaeffer Macauley
SIX presents No entiendo! posted at Six at Home!.
Carol J. Alexander presents Scrabble Tiles for Homeschooling  posted at Everything Home with Carol.
Mama Squirrel presents Books are a movie written down for you?  posted at Dewey's Treehouse.
"We're not trying to do "School at Home." We're trying to do homeschool. These are two entirely different propositions. We're not trying to replicate the time, style or content of the classroom. Rather we're trying to cultivate a lifestyle of learning in which learning takes place from morning until bedtime 7 days each week. The "formal" portion of each teaching day is just the tip of the iceberg."  ~ Steve and Jane Lambert ~ ( Five In A Row )
Read Aloud Dad presents Oxford Children's Classics: Perfect For Small Hands and Large Imaginations posted at Read Aloud Dad.
Read Aloud Dad presents He's Just Not Into Reading Aloud: 3 Excuses Dads Make And What They Really Mean posted at Read Aloud Dad.
Tiger's Mum presents Home-made foodie gifts posted at The Tiger Chronicle.
Janine presents I'm thinking of going over to the dark side posted at Why Homeschool
"If we all did the things we are capable of doing, we would literally astound ourselves."
~ Thomas Edison
Jacqui Hodges  Why We Homeschool posted at Reflecting His Glory
Chris Shaw presents Teaching Tolerance in the Home School  posted at Home School vs Public School.
 Sheila Pinkston presents  Real Help for Dyslexia  posted at Little Prairie Homeschool.
Tricia Hodges presents When Do You Plan for School? How Long Does it Take?  posted at  Hodgepodge.
Pamela Jorrick presents Hands On Chaos posted at Blah, Blah, Blog.
"You can't help respecting anybody who can spell TUESDAY, even if he doesn't spell it right; but spelling isn't everything. There are days when spelling Tuesday simply doesn't count."
~ Winnie the Pooh
Thank you for joining the Carnival of Homeschooling!  The next edition will be hosted by Corn and Oil.  Please submit your post here, and visit Why Homeschool  for further information.
Comments
comments